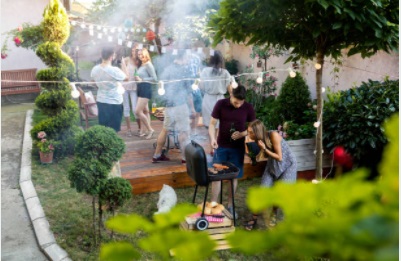 Hints and tips for dinner party success
Have you ev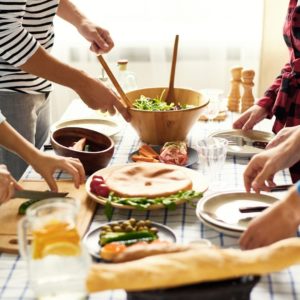 er read a lovely cookbook or foodie magazine and thought, "If Only". If only I could make that food for friends, if only I could create a lovely table setting, if only if only. Well, what if having a dinner party is easier than you think?
About three weeks ago it was my 30th birthday. A couple factors weighed into deciding what exactly to do for my birthday
1) I am a chef
2) I love to entertain at home
3) I am half Italian
4) I have a courtyard and a brother who also loves to entertain thus access to tables, chairs and a gazebo
I think we all know where this is heading! The decision to entertain at home was a pretty sure thing especially as the guest list was numbering around 25. Now I know some of you reading this would be going into cardiac arrest at the thought of entertaining 25 people…at home! But it can be easy. Well sort of.
Dinner parties do strike the fear of failure into people's hearts but it doesn't need to be so. With planning and attention you can make having a large dinner party a breeze. It will be work in regards to planning aspects but at the end you get to kick back and enjoy yourself without having to be kicked out at a certain time. Plus your bed is just a few footsteps away. Magic.
Now to make sure you have a successful party there are some things to consider:
1) Do you have enough room?
There was for me – if not consider renting a hall or other space in your area
2) Is it all weather appropriate? Being a winter party warmth was a priority. K-mart was having a sale on small fleece blankets so I scooped up about 10 for $3 each to keep legs and shoulders warm as gazebos don't really have the space to have a gas heater under and we weren't going to eat around a fire so this was a second best thing idea and it actually worked – everyone was cozy. What I didn't anticipate was the chance of rain. It did spit during set up which created a crazy scramble for shifting the covers and it did eventually rain hard which saw everyone run onto my balcony which was accommodating for sitting and chatting but not eating. Next time I would need to consider splashing out for a marquee just in case or finding an actual venue. So consider the following weather solutions – hand held fans for a summers day (make it a kitsch Spanish theme and it won't seem out of place!) or pedestal fans placed inconspicuously around, an open fire (there are many great fire pits available from bunnings for a decent price) or gas heaters for winter or just blankets if need be. If it rains will your guests still be dry and comfortable? If there is a lot of sunshine will they get burnt easily or be shaded?
3) Do you need to rent/buy your set-up?
If you have to rent/buy all your tables, chairs, crockery, glasses and cutlery etc are you wanting to spend the $$$ on this? If so, no drama but it is something to consider in your budget. There are many great hire places that can do package deals and even deliver for a small percentage on top.
As aforementioned I could use my brothers tables, chairs and gazebo. The plates, cutlery and glasses I actually owned. Yes…a table setting for 25 people..how? I collect mismatched plates for blog props (check) and cool water glasses on sale (check) and have inherited a couple of cutlery setting between my own, my partners and my families (check check) so that just left table cloths, napkins and decorations to purchase. Easy
4) Are you comfortable cooking?
If you are not a confident cook consider a caterer to help with more complicated aspects or wrangling someone who knows someone who can help.You can make the nibbles or dessert whilst they take care of the main part leaving you to sit and enjoy yourself. Catering may seem like an indulgent choice but if you just need some aspects taken care of, not the whole meal, it can be money well spent. Or if you know someone like me who has an undercover chef package, I can be there on the day helping you along making you feel more confident in your kitchen 🙂 This has been the creation point for this service as I know what it is like to want to have a celebration but not just leave the work to someone else all the time. By having a cehf in your kitchen you can have some tips and assistance without the stress of going alone. Even I had my head chef from work (connections I know!) on hand on her weekend off to help me and join in the celebration at the same time. Otherwise, if you're really unsure,  share style take-away such as your favourite Indian, Chinese or Thai can be a simple solution for share meals and you just focus on creating a lovely table setting and drinks.
5) Do you have a dishwasher?
I don't. I did cook a lot of the food the day before but still, 25 people have a lot of plates, platters and some saucepans. I was lucky that a few friends pitched in and got the washing up down between us for a bit before dessert, but had they not the mountain would have been a bit ordinary. Something to consider with larger dinner parties. Hiring glasses and plates or using quality disposable options (there are many nice eco-friendly options available) can take care of the clean up mountain if you choose
6) Do you know how you would like to set the table?
A great party of having a dinner party at home is being able to theme the party and match your table accordingly. My birthday was an Italian feast so I googled, and searched Pinterest for ideas and inspiration. I was going to go the full blown cheesy Italian red checked tablecloths etc etc but I decided to tone it down a touch but still bring a sense of trattoria and tradition to the table setting. Never underestimate your ability to get creative with inexpensive items. My tablecloth? $10 from k-mart but I covered it with a roll of brown paper down the middle as a runner giving it a rustic feel but also toning down the white non-linen table cloth feel. Placemats? I didn't really want to buy 25 red placemats for this dinner party so solution? Red wrapping paper cut into  placemat sized squares to sit under the plates. I had used tinned tomatoes and white beans in some of the menu so I bought Italian branded ones and kept the tins to hold my grissini sticks on the table. A little rustic touch that recycled my packaging from my ingredients. It doesn't take a lot of effort to make a big impact. A little creativity can go a long way especially if you have magazines and pinterest at your fingertips. Just don't get lost for hours like I do! 😉
The real secret to dinner party success? The age old adage of K.I.S.S – keep it simply simple (I know it's keep it simple stupid but I think that's a bit mean!) Start off with some basic ideas and menu items and build your way to a party for 25 in no time!
Love some more ideas or someone to lend a hand? Drop me a line at [email protected] to have a chat. Feel free to share some of your dinner party success stories here. Happy dining!