When is it convenient to buy ready made?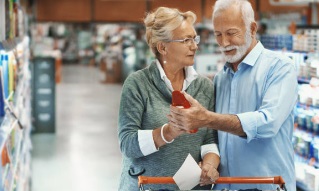 Ready made. Microwave meals. Convenient food. All becoming big no no's in the culinary world. Why? I hear you ask. Depending on the quality of the product, made processed food items can contain more chemical numbers, salt and sugar than they do real ingredients. So when is it ok to buy ready made products and how do you know what to look for?
I won't pretend that I haven't never eaten instant noodles, cracked opened a jar of simmer sauce or marinade or cooked a frozen product. But I am learning to read labels and made different decisions. A little research can go a long way to allow you to know what you could make just as easily yourself and what is pretty much a mirrored product of handmade packaged up.
One lament I often hear is time. I don't have time to make food, I don't have time to shop for ten million ingredients, I don't have time to learn new recipes or how to do this from scratch. I get it. Life is busy, there are lots of commitments in your day, but some shortcuts can mean you're paying a lot for very little convenience.
So let's start with the products you may find yourself reaching for but may actually contain very little bang for your buck:
Product
1. Marinades and simmer sauces – Have a read of the label. The ingredient listing has the product of the largest quantity listed first to the smallest last. So when you read a label that has water, sugar, flavourings you are possibly buying 50% water, 40% sugar, 10% flavours….crazy isn't it? Now some products are much more closer to a product you would make yourself. That's where reading brands makes the difference. I don't have the time to read the labels in the shop I hear you exclaim. It takes on a quick scan once you know what you're looking for. Below is a typical simmer sauce label which I will show you what to look for and how to create it for yourself:
Vegetable content: 23% – so the other 87% is the remaining ingredients, the second of which is sugar
Modified cornstarch : this is cornstarch that has been chemically treated to create a thickening agent. This does not mean it has been genetically modified but it becomes a more processed product if you are choosing to avoid this components
Now this is just an example to allow you to see what you are looking at when reading a label. Being able to decipher a label will mean you can make the best choices for you. If there are allergens, a dietary requirement or a lifestyle choice, reading labels means you will be best equipped to make the right choice for you.
Homemade
Marinades can be easily made through the use of juices, soy sauce, oil, herbs, spices, chilli, garlic, honey, fish sauce etc. So how do you get it to be thick like the jars? Cornflour – just dissolve about a tablespoon of cornflour to a cup of water, simmer it to thicken, add your favourite seasonings, allow to cool and there is your own homemade marinade. You know what's in it and can adjust the seasonings to you tastebuds.
Product
2. Spice blends
This is another product where you may not realise exactly what you are eating. This is a morrocan spice blend. Notice that there is natural chicken flavourings in there. So if you are making a vegetarian or vegan dish this is a big no-no. The first ingredient is also salt which is the bulking carrier plus sugar is in there too. Again, choose wisely. You can easily make your own spice blend and have it be vegetarian/vegan friendly. There is rice flour which is gluten free but again, allergen alerts too.
Homemade
Homemade spice blends are quite easy – yes you can use salt at the bulking ingredient but you control the proportion.
Here are some easy blends care of Wellness Mama.com
http://wellnessmama.com/4430/homemade-spice-blends/
She has everything from Taco mix, to Italian to homemade curry powder. Worth a look!
Product
3. Microwave/Convenience Meals
Now I don't often say I am really for or against something but these are one of my pet hates. The amount of numbers, chemicals and what on earth is that is a bit mind boggling. The only real exceptions I have found are some quality organic ready made soups or organic meals as they cannot have the same chemical content. This next ingredient list of microwave spaghetti and meatballs. To me, this ingredients would be:
Beef mince, onion, garlic, salt, pepper, parsley, breadcrumbs, tomato, spaghetti, egg
As you can see on the label this is not the case. Palm oil is used which is a cheap, environmentally detrimental filler, rolled oats are in there instead of the traditional breadcrumbs and I'm not exactly sure what beef flavour is doing in there or what it actually is. A simple meal is turned into something far more complicated for shelf life and microwave ready content. But something has to give and that's the integrity of the dish. So as you can see, it really pays to read a label and know what exactly you are eating and what it consists of.
Home made
Meals like spaghetti and meatballs can be made easily at home and frozen for later use. Pasta only takes about ten minutes to cook so you can freeze a large batch of home made meatballs in sauce, defrost overnight in the fridge and reheat in a pan whilst the pasta cooks. Same applies to quiches, sausages in gravy and roasts. Add some sauce to stop the meat from frosting and it reheats quite well. This way you can spend just one or two nights getting meals for the next week ready and rotate through your freezer if you are pressed for time. A little organisation means you know what you are eating and you are not caught without a meal if dinner plans go awry.
Product
4. Dips and spreads
Again this one can be an allergen alert and check for vegetarian/vegan friendly. Why is that? I hear you ask. Cream cheese is a common filler in a lot of cheaper dips. Even such unexpected varieties such as guacamole. You make think you are doing the right thing by your friends dietary needs but again, reading the label can ensure you don't unwittingly serve cheese to a vegan. A faux paus by anyone's standards I'm sure!
So what to look for? This is the ingredient list of a cheaper brand avocado dip:
Cream Cheese (61%) (Contains: Milk, Cream, Milk Solids, Salt, Vegetable Gum (410), Lactic Acid, Starter Culture), Avocado (15%), Potato Paste, Yoghurt [Contains: Milk, Milk Solids, Skimmed Milk, Cream, Starter Culture], Canola Oil, Reconstituted Lemon Juice, Spring Onion, Garlic Paste, Citrus Fiber, Thickener (1442), Colour (141, 160a)
Even a better brand still has the cream cheese filler:
Avocado (50%), Cream Cheese (Milk, Cream, Milk Solids Non-Fat, Microbial Rennet, Lactic Culture, Vegetable Gums (410, 412)), Corn (14%), Spring Onion, Capsicum (5%), Jalapeno Chilli, Canola Oil, Vinegar, Garlic, Salt, Sugar, Food Acids (270, 296, 300), Emulsifier (471), Soy Solids, Thickener (415), Colour (140).
Homemade Solution? Just smash you own avocadoes with some salt and pepper, lime juice and put into a food processor to whip if need be. If you need to thin it out, find your own cream cheese so you know how much you are using to extend it and if you need to make it vegan, find some vegan cheese to thicken.
But there are exceptions such as this tzatziki dip which contains pretty much spot on the traditional tzatziki ingredients:
Yoghurt (Milk, Milk Solids Non Fat, Lactic Culture), Cucumber (16%), Vegetable Oil (Canola), Garlic, Soy Solids, Salt, Spices, Thickeners (415, 1412).
For clarification thickener 415 is xanthum gum which is derived from fermenting corn sugars so you may need to watch allergen alerts on this one as other starches can be used to create the xanthum gum and thickener 1412 is a starch derived from corn. In so far as close to the actual product goes this is not too bad except for the thickeners so if you are in a pinch it could be a good option.
So when it ok to take a shortcut? In some instances there are products that pretty much match the home made product? Don't believe me? Here are some of my 'cheats'
1. Puff pastry – The labour required is pretty intense but this puff pastry is as close too if not better than the home made deal but shhh don't tell anyone 😉
Pampas Butter Puff pastry (must be butter no the usual one): Wheat flour, unsalted butter (25%)(milk), water, salt, food acids (300,330)
Food acid 300 is ascorbic acid or vitamin c which is used to treat flour and food acid 330 is citric acid and is natural preservative. So really, this product is pretty much the real deal. 2. Meringue nests – again, this is more a time thing as meringues take time to cook at a low heat so if you need dessert in a pinch these are pretty good option
Coles brand: Caster Sugar, Egg White, White Vinegar, Natural Flavour, Stabilisers (415, 412), Foaming Agent (1505)
Stabiliser 412 is guar gum, a natural gum from a plant seed, 415 is our friend xanthum gum and foaming agent 1505 is our friend citric acid too
3. Ready made soups – as aforementioned organic varieties are pretty spot on
Pitango Brand Lamb Soup: Lamb Stock (50%) (Water, Lamb, Carrot, Onion, Herbs & Spice), Vegetables (30%) (Carrot, Potato, Kumara, Onion, Garlic), Tomatoes, Lamb Meat (5%), Lima Beans, Red Wine (1%), Corn Starch, Salt, Sunflower Oil, Spices, Oregano, Rosemary (00.030%).
As you can see, no numbers, no chemicals, just soup of lamb and vegetables. Easy
4. Some jarred vegetables – semi dried tomatoes, grilled capsicum/eggplant and marinated artichokes. These vegetables are all fairly wholesome if you choose the right brand and if making your own dips, pizza's or sauces can be a step saver for a grander meal.
Always Fresh eggplant: Grilled Eggplant (62%), Vegetable Oil, Salt, Garlic, Food Acid (330), Herbs, Vinegar.
As you can see if you need it in a hurry and don't have the time to take this extra step it's great in a pinch. Obviously grilling your own vegetables is a preferable choice but again, in a pinch not a bad option
At the end of the day it's all about choosing what works for you. I am all for making life easier for yourself in the kitchen but it never hurts to be aware of where you can make it easy without adding a whole lot of chemicals and additives instead. Need some more hints and tips on how to create kitchen shortcuts or organise family meals in advance? Drop me a line and we can create some cooking classes or workshops to suit your needs. Happy cooking!