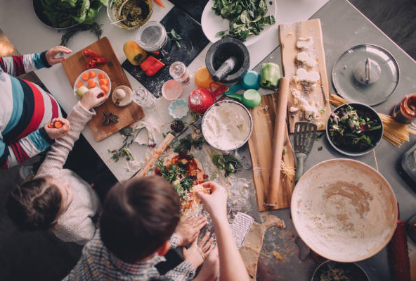 Is there a budding chef in your kitchen? 
I believe that kids of all ages can create in the kitchen. The only limit? Their imagination.
Cooking expresses their creativity, teaches basic maths and comprehension and allows kids to learn time management. I've always enjoyed sharing my cooking knowledge and creating classes to entice taste buds of all ages has been the best part of that.
Why not join in?
Love to join your kids in the kitchen to create fun memories and stress free family meals? The nourish packages are designed for any combination of parent/carer and child and designed to have everyone whipping up delicious recipes together. 
Food for everyone
Allergies and intolerance's? No worries! – all recipes and lessons can be created to suit but please read the FAQ for full disclosure on allergy and intolerance cooking. 
Gift Vouchers
After a gift voucher? Vouchers can be arranged for either a specific class or a general dollar amount. Please send an e-mail to [email protected] or fill in the contact form and I will get back to you with a quote for the class of your choice. 
Call Luisa Now to Get Started Now!
Ready to book in your next class? Call or email Luisa to get started