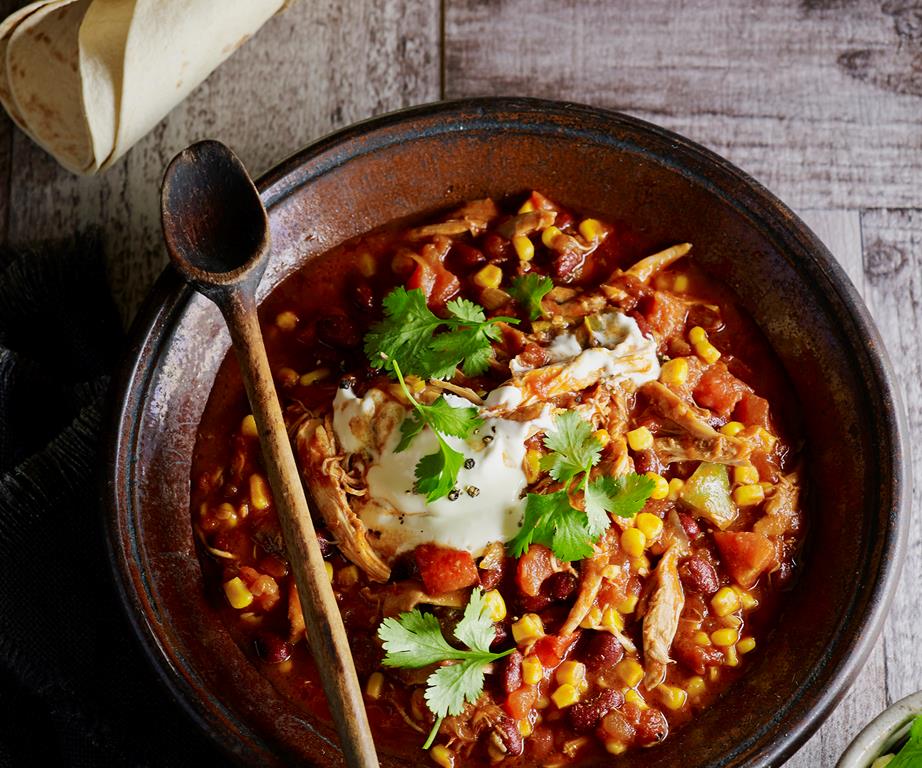 Mexican Style Slow Cooker Chicken and Beans
Mexican Style Slow Cooker Chicken and Beans
1.6 kilogram whole chicken
800 gram canned kidney beans, rinsed, drained
1 medium brown onion (150g), sliced thinly
3 clove garlic, crushed
1 medium red capsicum (bell pepper) (200g), chopped coarsely
1 medium green capsicum (bell pepper) (200g), chopped coarsely
1 corn cob (250g), trimmed, kernels removed
2 tablespoon tomato paste
400 gram canned diced tomatoes
1 cup (250ml) chicken stock
2 teaspoon ground cumin
2 teaspoon dried oregano
1 teaspoon smoked paprika
1 teaspoon dried chilli flakes
1/2 cup loosely packed fresh coriander
Method
Rinse chicken under cold water; pat dry, inside and out, with paper towel.
Trim excess fat from chicken.
Combine beans, onion, garlic, capsicums, corn, paste, tomatoes, stock and spices in a 5-litre (20-cup) slow cooker.
Place chicken in cooker, push down into bean mixture. Cook, covered, on low, about 8 hours.
Remove chicken from cooker; when cool enough to handle, discard skin and bones. Shred chicken meat coarsely.
Return meat to cooker; cook, covered, on low, for 20 minutes or until hot. Season to taste.
Meanwhile, make avocado salsa: Combine ingredients in a small bowl; season to taste.
Sprinkle chicken mixture with coriander; serve with avocado salsa and tortillas. Accompany with sour cream, if you like.