Summer days are meant for ice-cream. Cool taste sensations and flavours that delight the tongue, what could be more exciting?
Sometimes though, store bought ice-cream can reveal a whole lot of interesting additives, flavours, extenders (water, vegetable shortening, wheat starch) which I prefer to leave on the shelves, not in my stomach. So how you get your ice-cream fix without the stress? The joy that is no-churn ice-cream!
That's right, no longer do you need to pull your mix out of the freezer and bend your beaters (a lesson I learnt all too well…use the heavy duty paddle next time Luisa…). With this recipe you just mix, whip, fold and freeze. Easy. I will include the traditional recipe as well if you do own a churner as these are also fabulous and a churner does make life a lot easier when creating fantastic ice-cream creations!
So why use sweetened condensed milk in these recipes? The ingredients of condensed milk are just milk, milk solids and sugar. When making traditional ice-cream you use milk, cream, sugar and eggs so this is great for those with egg allergies and there are no thickeners, additives, colours or preservatives. The condensed milk stabilises the ice-cream mix the way eggs do in the traditional recipes allowing you to have the same smooth texture without the fuss. The only difference for me was it is quite rich so a couple of spoons will do.
When creating your own mix, don't be afraid to get creative with flavours for exciting combinations. Here are some of my favourites:
Hazlenut and chocolate – add a generous scoop of nutella to the mix. If making no churn stir into the condensed milk, if making custard add to the milk and cream mix
White chocolate and passionfruit – for no churn add 100g melted white chocolate and 100ml of passionfruit puree. For the churn, double the amount and add the chocolate to the milk when heating and passionfruit at end.
Strawberry – to make puree blend 150g strawberries with 2 tbsp of icing sugar and strain – add to mix
Malt – for the no churn dissolve 2 tbsp malt in 5tbsp of the pure cream warmed and add to the condensed milk. For the churned add the malt powder to the milk and cream mix when heating
Stay tuned for further recipes teaching you how to make praline mix in's, fun serving ideas and home made toppings. Yum!
So without further ado, the no-churn ice-cream: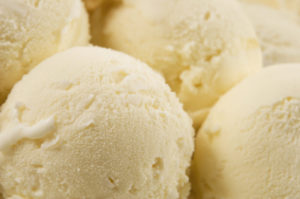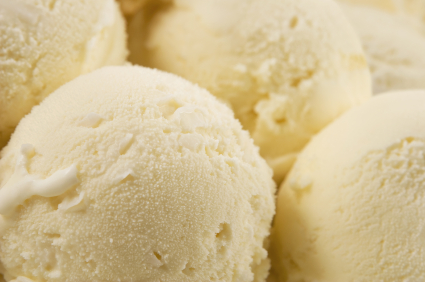 No Churn Vanilla Ice-Cream
Ingredients
1 can condensed milk (340g)
300ml pure cream
Splash of vanilla essence
Instructions
Combine vanilla and condensed milk
Whip cream to soft peaks
Fold through cream and milk mixture softly until well combined
And if you'd like to churn your own vanilla ice-cream?
Vanilla Ice-Cream
Ingredients
560ml cream
188ml milk
210g sugar
6 egg yolks
1 vanilla pod
Instructions
Bring the cream, milk, vanilla and half of the sugar to a simmer
Whisk the yolks with the remaining sugar until light and fluffy
Mix through the cream and milk with the yolks
Place back on stove in clean pot over low heat and stir until mixture thickens
Strain and allow to cool and chill
Place into churner and follow your machines instructions
Cooking out custard can be a bit tricky so here are some troubleshooting tips
1. It looks like scrambled eggs – your stove was too hot and the egg yolks cooked too quickly. Never fear, the solution is to allow the mix to cool a little, then add it to a blender and whiz until smooth and strain through a fine sieve. Make sure the mixture is cooled before blending otherwise it can overflow and cause burns
2. It looks watery and you've been stirring for quite a long time – you may need to increase the heat of your stove – a low to medium heat works well for induction and electric, gas should work quickly on low
3. I need to churn the ice-cream in a hurry – To cool the custard quickly, place the bowl of custard over another bowl filled with ice and water and stir the custard mix until cooled and churn