Triple Layer Berry Cheesecake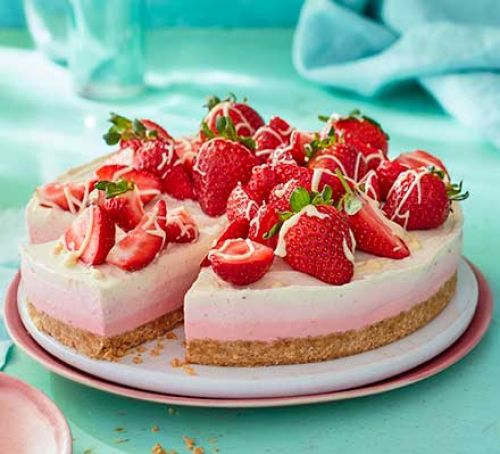 Ingredients
100g butter melted, plus extra for the tin
200g digestive biscuits
2 gelatine leaves
50g raspberries
50g caster sugar, plus 2 tbsp
350g strawberries
500g full-fat cream cheese
250ml double cream
few drops red or pink food colouring
1 tbsp vanilla bean paste
50g white chocolate melted
Method
Butter and line the base and sides of a 20cm springform tin. Blitz the digestives in a food processor until you get fine crumbs, or bash in a sandwich bag with a rolling pin.
Transfer to a bowl and stir in the melted butter until it looks like damp sand.
Tip into the prepared tin, and smooth the mixture with the back of a spoon to make an even base, then chill.
Soak the gelatine leaves in cold water. Put the raspberries in a food processor or in a jug using a stick blender, and blitz to a smooth purée.
Sieve out the seeds. Warm the raspberry sauce in a small pan with 1 tbsp sugar until just starting to steam, then pour over 1 drained gelatine leaf in a bowl and stir to dissolve.
Blitz 3 (about 65g) of the strawberries in a food processor, and warm through with 1 tbsp sugar in the same way. Tip into a bowl and stir in the other drained gelatine leaf.
Whisk the soft cheese, cream and caster sugar until it just starts to thicken. Divide between three bowls (about 260g per bowl).
Fold the strawberry purée into one with a few drops of food colouring to make it light pink, the raspberry mix with the gelatine into another with more food colouring so it's dark pink, and the vanilla bean paste into the third.
Spoon the raspberry filling over the biscuit base, smoothing the surface so it's flat. Next, add the strawberry filling, gently smoothing over without disturbing the bottom layer, then repeat with the vanilla mixture, using a clean spoon to level the top. A spatula or knife might help with this to keep from dragging the below layers.
Chill for 4 hrs or overnight.
Run a knife around the sides of the cake tin between the cheesecake and the parchment, and loosen the base.
Transfer to a cake stand, and smooth the sides, using a palette knife, to neaten the layers. Mix the chocolate with a few drops of lemon extract, if using.
Pile the remaining strawberries, some sliced, some whole, on top, and drizzle over the chocolate to finish
Utensils required:
Sprinform tin
Bowls
Food processor or stick blender
Electric beater
Sieve
Spoon/Spatula
Baking paper
Recipe from BBC good food – https://www.bbcgoodfood.com/recipes/triple-layered-berry-cheesecake