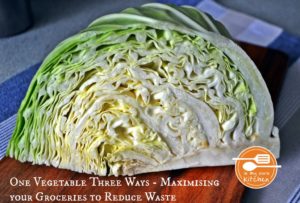 Admit it. We have all done it. Impulsed shopped when we are hungry, rushed or just out of ideas. A mad scramble in the vegetable section and you have done your shopping only to come home, unpack the grocery bags and think, now what do I do with all this food?
Routine, stress and busy day can dampen our desire to try something new and think outside outside the square to create dinner. It doesn't need to be that stressful though. After many years cooking at home and professionally I do have quire  repertoire of recipes and ideas of what to do with certain ingredients. But I am always open to discovering new flavours, new techniques and ideas about creating with food.
One of the most creative aspects of my professional chef years has been any aspect of menu planning. Creating dishes from ingredients that are seasonal, affordable and appeal to the general public can be quite a challenge. It is easy to create a fanciful menu when you don't need to consider the time it will take to make the recipe, how quickly it can be made on a busy night and how long it will last. There is no point creating a dish that takes two days to prepare, an hour to make it to the plate and only yields a few serves if you a small suburban restaurant as opposed to a fine dining city one.
The same applies to choosing and making recipes at home. Unless you are in the mood for a whole day of cooking or are able to buy daily serves of fruit and vegetables a little bit of meal planning or at least a few ideas of what to do with certain ingredients can go a long way to ensuring you don't through out half of your produce at the end of the week.
When I shop I usually have ideas in mind of what I will do with the produce I buy. Tomatoes are almost always destined for salad or sliced on a cruskit as a quick snack. most fruits I eat as is and vegetables will be either roasted, steamed or chopped for salad. But what if you're sick of the same old preparation? Over the next few weeks I am going to endeavor to bring to you a couple of different quick and easy ways to enjoy seasonal fruits and vegetables. Winter is coming (that's a very Game of Thrones reference I know, apologies!) and with it a smaller selection of seasonal fruits and a change in the variety of vegetables. Fear not though, with a little tweak your grocery list can reflect a combination of staples and surprises to keep dinner time fun and enjoyable. Who wants to eat boring? Certainly not me!
Last weekend I took a trip to the farmers markets to restock our fridge after a few weeks away. As I mentioned the seasonal vegetables for Autumn and Winter are very different to Summer and Spring. The cooler weather heralds the arrival of Broccoli, Cauliflower, Dark leafy greens and Root vegetables. Melons, citrus, apples and pears bring the fruit to the table. In Australia we do have some fruits and vegetables available year round but if you ever wonder why some months the same produce is considerably cheaper than others it is because when they are in season there will be a large availability of them thus the cheaper price. Makes sense doesn't it?
So what to cook when the weather outside turns cold?
This week it's all about the humble cabbage. I don't know about you but my earliest memories of cabbage is the smell of my grandparents house as we came over for Sunday lunch and they were cooking Golabki, a Polish stuffed cabbage dish. They certainly tasted better than they smelt but for a long time I just assumed that was how cabbage was prepared. Either that or shredded and coated in mayonnaise for coleslaw.
So what to do if you're not a fan of either? Don't despair and don't pass over out little cabbage friend. Coleslaw doesn't need to be synonymous with the sickly sweet mayonnaise laden version you get from the supermarket deli. Nor is that the only way to use a cabbage. Below are three easy recipes with cabbage all set to reintroduce you to this hearty friend and warm your winter bellies. Feel free to adjust as you like with herbs, spices or seasoning as you desire. These are just some simple suggestions so the next time you find a cabbage rolling around your fridge you have some idea of what to do with it. Bon Appetit!
Recipe One: Asian Style Coleslaw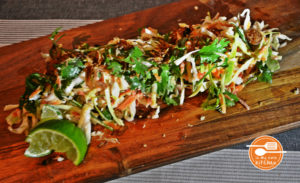 Ingredients (for two)
1/2 sugarloaf cabbage
1/2 cup of picked coriander leaves torn up
1/2 cucumber grated
1/2 carrot grated
1/2 cup mayonaise
2-3 tbsp of thai seasoning mix (Gourmet garden brand)
2-3 tbsp chilli sauce
Juice of 1/2 lemon
Sprinkle of fried shallots (available in Asian food aisle of most supermarkets)
Method
1/ Grate carrot and cucumber on large side
2/ Finely slice cabbage either by hand or on a mandolin
3/ Combine mayonnaise, seasoning and chilli in a bowl. Mix well and adjust seasoning to taste. Add lemon juice and stir
4/ Combine all ingredients in a bowl, coat with dressing and serve as an accompaniment to grilled prawns or chicken as desired. For extra crunch sprinkle with fried shallots or crunchy noodles
Recipe Two: Colcannon (Serves Two)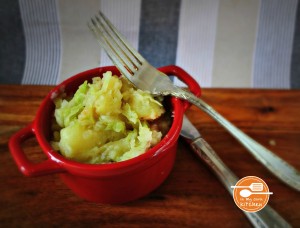 This Irish potato based dish is delicious with stews or casseroles or with a hearty grilled steak and gravy. Whichever way you like it, it's sure to warm your belly on a cold night.
Ingredients 
3 potatoes  suitable for mash (desiree potatoes are a good all rounder) peeled and cut into large chunks
1/4 finely sliced sugar loaf cabbage or curly kale as desired
1/4 cup of finely sliced chives or shallot onions (use the green of the shallots as well)
1 cup milk or cream
2 Tbsp butter
Method
1. Put the potatoes into a pot, cover with water and season the water with salt. Place on stove and bring to a steady simmer and allow to cook until fork tender. Usually 15 minutes
2. Drain the potatoes and reuse the pot and return to the stove. Add the butter to the pot and saute the cabbage until softened, season with salt and pepper. Add the shallots or chives, stir through. Fork crush the potatoes in a bowl for a more rustic texture or crush with a masher until at desired consistency.
3. Add the milk or cream, mix well, and add the potatoes. Mix well and add more butter if desired. Check seasoning and adjust if desired. Serve and enjoy
Recipe Three: Braised Red Cabbage 
Braised red cabbage can take on a sweet flavour with the addition of red wine and little brown sugar. It's a lovely accompaniment to gamey red meat such as duck or kangaroo.
Ingredients: (serves about 4) 
1 medium brown onion, thinly sliced
1 Small head of red cabbage finely sliced
1/3 cup cider vinegar
1/3 cup red wine
1 cup water
2 tbsp brown sugar
1 Granny smith apple grated on large side
Method
1. Heat a medium saucepan, add oil and stir in onion. Sweat the onion until translucent. Add the cabbage  and wet ingredients to the pan and stir well to combine. Season with salt and pepper. Raise heat to medium-high, cover, and cook  for 5 minutes.
2. Reduce the heat continue to cook the cabbage covered, stirring occasionally. Leave to simmer for about 30 minutes. Stir the apple into cabbage and cook, covered, until cabbage and apples are tender, approximately another 25 to 35 minutes. When the cabbage and apple are tender, remove from heat and allow to sit for about five minutes before serving.