Moroccan lamb filo with Fattoush Salad
Prep Time: 30 minutes Cook Time: 40 minutes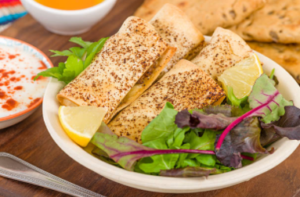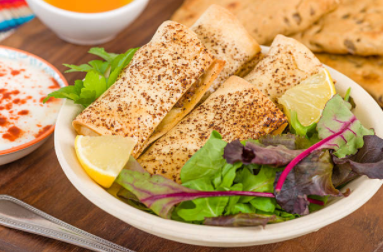 Ingredients
1 tbsp olive oil
1/2 brown onion finely chopped
500g lamb mince
3 garlic cloves crushed
1 carrot grated
6 dates chopped
1 tbsp Moroccan spice mix
200g baby spinach leaves
2 tbsp lemon juice
1/4 cup plain yoghurt
1/8 cup bread crumbs
2 tbsp parsley chopped
2tbp mint chopped
1 box filo pastry
Method
Heat oil in a frying pan over high heat
Add onion to pan and cook until softened and golden, add garlic to pan and cook
Add mince and brown
Add spices and cook, add vegetables and cook until softened
Stir through yoghurt, bread crumbs and herbs
Place into a bowl and allow to cool
Preheat oven to 180 degrees – line a baking tray with baking paper
Place one sheet filo onto paper, brush with butter, Top with another sheet and repeat with five more sheets to create a stack
Spoon mince mixture along the long side, roll up to enclose the mince mix
Brush the top with melted butter and sprinkle with sesame seeds
Repeat with remaining sheets and mince mix until finished
Cut each roll into four. Back for 20-25 minutes until golden
Lebanese Fattoush Salad
Ingredients
Salad
1 large pita bread cut into triangles
3 tablespoon olive oil
salt to taste
Freshly cracked pepper to taste
1 large head of cos lettuce chopped
1 large vine-ripe tomato diced
1 cucumber quartered and chopped
1/2 a large green capsicum diced
5 radishes diced
2 green onions chopped
1/4 cup fresh chopped parsley
Dressing
3 tablespoon olive oil
2 tablespoon lemon juice
2 garlic cloves pressed or grated
1 teaspoon sumac – substitute grated lemon zest
1 teaspoon pomegranate molasses substitute balsamic glaze
1/2 teaspoon mint fresh or dried
1/2 teaspoon salt
Fresh cracked black pepper to taste
Instructions
In a large pan, heat 3 tablespoons of extra virgin olive oil on medium heat. Add the pita bread and season with salt and freshly cracker pepper
Fry the pita for 5-7 minutes until the pieces are crispy and golden in colour. (Alternatively, bake the pita bread at 200° for 5-10 minutes.) Set the fried bread aside.
In a large bowl, add the salad dressing ingredients: olive oil, lemon juice, garlic, sumac, pomegranate molasses, mint, salt and pepper. Whisk together until the dressing is emulsified and well blended.
Add the remaining ingredients to the bowl and toss.
Add the fried pita bread to the salad immediately before serving and gently toss again.
Serve chilled or at room temperature