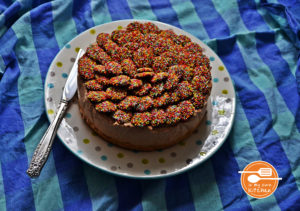 It was my boyfriends birthday recently and course we had to celebrate with cake! What is a birthday without cake after all! I have always enjoyed making birthday cakes for friends and family and watching their delight as everyone sings a song in their honour whilst embarrassing them with how off tune it all is. These days birthday cakes know no bounds as flights of fancy in icing have seen the rise of more and more creative baking feats achieved. I prefer to make simple cakes but I do enjoy the fruits of other peoples labour don't worry! For this birthday as Davin loves cheesecake and chocolate what better way to combine the two to celebrate his day than this chocolate cheesecake recipe.
This recipe was given to me by my sous chef at Il Centro Brian. He has cooked this for his lady and her friends and due to their rapturous response deemed this recipe a winner. From the response of Davin and his family and my own enjoyment, I'd have to agree. His version has white chocolate but I am more of a milk/dark chocolate fan so went with that. Traditionally cheesecakes are either baked or set with gelatine but the addition of butter plus the chocolate to this recipe allows it to set firm in the fridge without the use of gelatine. This is particularly handy if you don't have gelatine on hand or don't use it often enough to buy for one cake. Feel free to stir through some berries of chocolate chips or whatever ingredients take your fancy to make it your own.
Chef's Notes:
– A food processor makes turning the biscuits into crumbs easier by far but if you don't have one there is the old fashioned way that my mother and I used to do which is put the biscuits in a bag and crush with a rolling pin or meat hammer until crumbly. I recommend this method after a stressful day.
– A springform pan is the one where there is a leverish catch in the side with releases the band away from the base. This is to allow easy release of the cake from the pan, especially as it quite delicate and flipping it out as per a normal cake may cause it to break. If you don't have one of these tins, ensure you line a cake tin with baking paper and ensure you have a long piece of paper that overlaps the side of the pan to lift the cake out
– With baked cheesecakes the base is baked for a few minutes before being left to cool. This is to ensure the base doesn't melt back into the mix when baking, a step no necessary with cold set cheesecakes
– If you can't find mascarpone, ricotta will suffice. The addition of the mascarpone adds a little tartness and a lighter creaminess than just cream cheese by itself
So, without further ado, the ingredients:
100g sugar
200g chocolate (white, milk or dark)
300ml pure cream
200g marscapone
250g cream cheese
100g butter
200g biscuits of your choice (arrowroot, chocolate, ginger snap)
2 teas sp vanilla
Method:
1. Melt chocolate and 30g of butter together and stir until combined
2. Process biscuits until fine crumb. Melt remaining butter and mix through biscuits until evenly coated.
3. Line spring form tin with baking paper to ensure clean release and press biscuit mix into base of spring form tin until even. Place in fridge for at least 15 minutes until firm.
4. Whip sugar and cream cheese together, add cream and whip together. Fold together with mascapone, add melted butter and chocolate mix  and stir through gently.
5. Pour on top of biscuit base and cool until firm, approximately 2-3 hours or overnight
6.  Decorate as desired – I used freckles or you could use strawberries, berries, crumbled chocolate or biscuits, whatever you fancy
7. Cut a big slice, sit down and enjoy every bite!