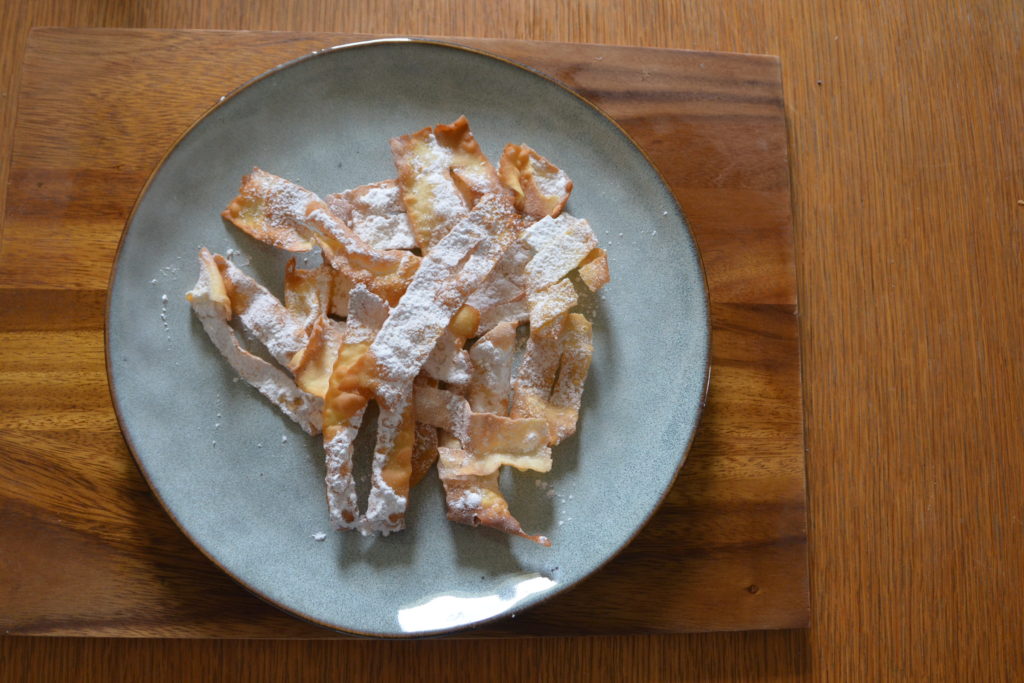 Ingredients
500g plain flour
1 tsp baking powder and 1 tsp vanilla extract
¼ cupicing sugar, plus extra for dusting
1 orange, rind grated
1 lemon, rind grated
¼ cupunsalted butter, softened
1 tbsp grappa (Italian brandy)
3 eggs
vegetable oil for deep-frying
Method
Combine the flour, aking powder and vanilla
Rub in the butter until the mixture resembles breadcrumbs. (This can also be done in a food processor.)
Add the grappa and eggs and mix with your hands to form a dough. Transfer to a work surface and knead until smooth. Cover in plastic wrap and leave to rest for 30 minutes.
Divide the dough into four sections. Roll the first through a pasta machine on the widest setting. Fold it in half and run it through the machine again.
Do this several times until smooth, then start rolling it out at narrower settings until you reach the last setting and have a very thin, long sheet. Lay the sheet on a floured surface while you roll out the other pieces of dough.Cut the sheets into strips 3–4 cm wide (a ravioli cutting wheel with a crimped edge gives a decorative look).
Cut a few small slits in the centre of each strip running lengthways.
Deep-fry small batches of crostoli in hot oil (180°C) until pale golden. Drain on paper towel. Dust with icing sugar to serve.