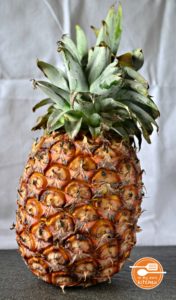 Don't worry, this isn't a personals ad or even a rendition of that song, it's my tongue in cheek intro to the very in vogue fruit of the moment, the Pineapple. From kitchen to decor, this versatile fruit has a lot going for it.
The cool chill in the air doesn't exactly conjure images of tropical paradises but there is one fruit that can give you a little slice of beach life and that is our spiky friend the pineapple. Pineapples are a great dessert treat but many are put off my having to tackle the less than appealing hard spiky skin. My advice is to clean up the pineapple as soon as it comes home in your market bags to ensure that when you are after a quick snack it is ready to go and doesn't become neglected.
Pineapples are also able to be dried easy and their sweetness is intensified for a surprisingly different garnish and dried fruit snack.
My favourite way to enjoy pineapple in winter is to pan roast them with a little butter and sugar as a compliment to ice-cream or even as the offsider to a panna cotta. Of course, a little blended into a pina-colada cocktail never hurts either! The combination of coconut and pineapple is a tropical party combo just waiting to cheer up your winter blues. I have two recipes below, one for a really easy egg free pina-colada ice-cream and the second with a coconut panna cotta and roast pineapple. Take your pick and enjoy them whilst dreaming of sunnier days with your toes in the sand. Enjoy!
Pina-Colada Ice-Cream
Ingredients
700g sour cream
250g icing sugar
440g crushed pineapple (drained)
250ml coconut cream
100ml coconut liquor or essence
150g shredded coconut toasted
Method
Whisk sour cream, coconut cream and icing sugar until well combined
Fold through pineapple and essence/liquor
Lightly fold through 100g of the toasted coconut
Place in bowl and freeze, taking out every hour or two and giving a stir to aerate
After stirring twice, place in loaf tin lined with glad wrap or a brownie tray and freeze until firm
To serve, cut into slices and roll edges in remaining coconut and plate with some fresh diced pineapple and mint or fruit of your choice
NB: If you have an ice-cream churner, follow method as above but fold through the pineapple and shredded coconut at the end before freezing to avoid damage to churning arm
Coconut Panna-cotta with Roasted Pineapple
Now, I have to admit, I went a little retro on this one with my choice of moulds. I have some old school jelly moulds rolling around in the cupboard but they work a treat. They have a seal to stop them from leaking when putting them in the fridge to set and a removable bottom to help poke them out if they are a little shy. As is often said, if it ain't broke, don't fix it! and these little babies certainly do the trick to behold my slightly retro version of the panna cotta.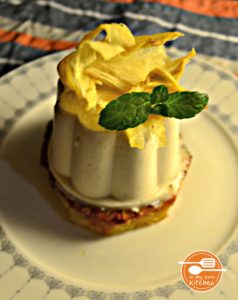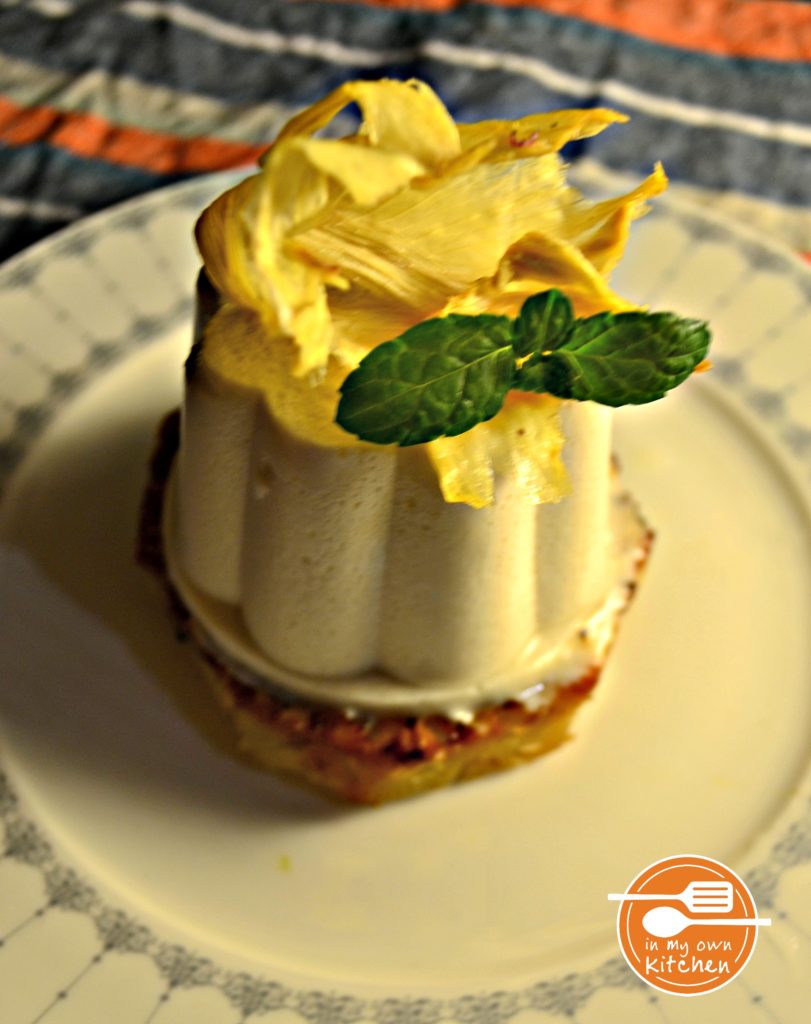 Ingredients
Pannacotta
300ml coconut cream
200ml cream
1 cup icing sugar
5 gold gelatine leaves (see packet for quantities if not sure) soaked in ice water to soften
 Roast pineapple
1 pineapple cut into rounds
20g butter
1 tbsp sugar
Method
For pannacotta
Place cream and coconut cream in a saucepan with sugar. Bring to a gentle simmer
Remove from heat and add soaked gelatine, whisk well
Pour into moulds and allow to cool slightly before refrigerating for at least four hours or overnight
For pineapple, warm a frying pan on a gentle heat, add butter and sugar and allow to caramelise, add pineapple to pan and colour on both sides, leave in pan and remove from heat and allow to cool
Serve cooled pineapple under pannacotta and top with dried pineapple and mint leaves
NB: I used a sunbeam food dryer for my pineapple. I just sliced in finely and dried over night. You can use an oven but it needs to be a very low heat and overnight.
An easy way to prepare the pineapple is to cut into the rounds and use an apple corer to remove the hard centre whilst keeping the circular shape