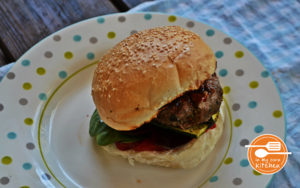 Creating interesting and nice dinner options can be a bit of a chore when you really aren't sure what you feel like and the thought of opening a recipe book seems too much like work. Well for me it's a lot like being at work but that's another story! I decided burgers were on the cards and to ramp up the fanciness and exclamations of oh la la's I decided to make lamb mince patties.
To me the secret of a good burger pattie is some spice, some herbs and something to create moisture when you are cooking the meat so you don't end up with a round pattie of well…mince really. Some may argue with me but I don't believe that mince in inherently tasty unless perhaps you make your own but not many people have a mincer these days nor the inclination to fire it up. So how to make mince tasty I hear you ask? And why is moisture important?
Salt and pepper are a good start as a seasoning but think of complimentary flavours. For lamb, morroccan style spices work well, or fresh herbs and garlic are always easy. I went with a morroccan spice blend, thrown together from the spice rack in my cupboard. Why moisture I hear you ask? Some minces have a lot of fat, some not so much. As fat melts is creates flavour and moisture which in turn help create plump and juicy burger patties as opposed to dry and crumbly ones. If you lean towards the well, lean side of mince you need something else besides fat to create moisture and flavour. I used grilled eggplant due to their high water content (they are like a sponge, trust me) and some breadcrumbs soaked in milk. This is a little chef secret. If you are gluten free by all means use gluten free breads crumbs, they are more a medium to absorb the liquid and then release it as the temperature rises and it turns to steam. Lactose free, just use water, it will work just as well.
Im all about fuss free cooking so I grilled my eggplant in rounds with the onion and then added it to the blender with some extra spices, the milk soaked breadcrumbs, gave it a whizz and added it to the mince. I formed the patties and let them sit for about and hour to firm up before grilling. I used grilled capsicum and zucchini, bbq sauce, some of the grilled onion and spinach leaves to top the bun. I also toasted the bun on the BBQ for some extra zing. Feel free to use what you wish, hommus or yoghurt dressing would be lovely, rocket or plain lettuce, sliced tomato and cucumber, the freedom to choose is yours! These burgers can also be made in advance and frozen, or made, eaten and the leftovers frozen for another scrumptious meal. You can make smaller meatball style for a canape or to fill a wrap as well.
Ingredients:
– 1 Packet of lamb mince (usually 500g)
– 1 eggplant
– Two carrots
– 1 Capsicum
– 1 red onion
– 1/4 cup chopped parsley
– Moroccan or otherwise seasoning of your choice
– 2-3 slices of bread or one bread roll
Method:
1. Soak bread in just enough milk to cover
2. Slice eggplant and onion and season with spices and brush with olive oil. Split open capsicum lengthways, remove seeds and brush with olive oil.
3. Grill eggplant, capsicum and onion until softened. Set capsicum aside for burger topping, place eggplant and onion in a food processor.
4. Chop carrot into small enough pieces for processor, add to eggplant and onion mix with bread and seasoning to taste, blend until smooth paste
5. Fold through mince until well incorporated
6. Form into patties or meatballs and set in fridge for at least one hour NB: The larger the patties the longer the cooking time so ensure the patties are of reasonable thickness so as to not burn before cooking through – approx 2cm would suffice
7. Grill or pan fry the patties until golden and cooked through
8. Assemble burgers or wraps with toppings of your choice
9. Assume burger grip and tuck in