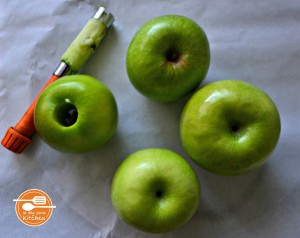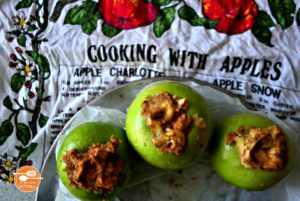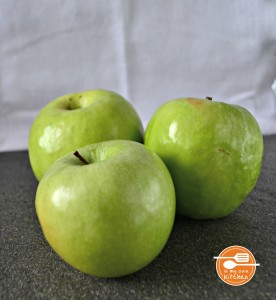 I love vintage tea towels. Especially when they have old school recipes on them that remind you of foods you used to eat when you were young. This was the case with one of my favourites, a cooking with apples tea towel. Bright friendly colours keep you company as you wipe up your dishes but also gave me inspiration for dessert at my friends this week.
As a child dessert wasn't a bit thing at the end of a meal. Sure there was coffee and biscuits but actual desserts weren't a big feature so when my mum made her fabulous baked apples everyone was always around the dinner table, the oft used excuses to disappear into teenage bedrooms forgotten. Well for my siblings anyways. Being eight year younger I was always happy to hang around the dinner table with Mum, not having reached the joy of teens years just yet. But I digress. My Dad wasn't too much of a sweet tooth preferring a slice of cheese and fresh apples after dinner but loved Mum's baked apples,  so we knew that Dad was in Mum's good books when they appeared after dinner.  Such a simple dessert but coupled with ice-cream it was such an easy after dinner treat.
Lo and behold my fabulous vintage tea towel featured a similar recipe transporting me back to my childhood. Their recipe also featured glace cherries and brandy made into a sauce with the buttery goodness left behind, a step which I left out because a) I don't really like glace cherries and b) I thought the caramelised buttery sauce was nice enough without a splash of brandy which I don't actually have on hand anyways!
So I know I haven't really revealed the full temptation of a baked apple as yet. Just the title doesn't really give away the treat it is, so I will explain the very simple method and try and entice you even more. Quite simply, you just core out the apple's whole, score the skin so it doesn't burst open and make a mess and then stuff the cavity of the apple with a combination of softened butter, brown sugar and cinnamon. Imagine then baking these stuffed apples for about half an hour in which time the butter and sugar caramelise to a butterscotch sauce at the bottom of the pan and the apple flesh cooks down to a soft, sweet filling. No we are talking hey? Now put that delicious apple into a bowl, top with vanilla ice-cream and enjoy! You can thank me later, don't worry.
Ingredients (serves four)
4 granny smith apples (these bake really well but if you have a favourite apple by all means use them!)
3 tbsp softened butter
2 tbsp brown sugar
pinch cinnamon
Method
Core out the apples and score the skin
Mix the butter, sugar and cinnamon in a bowl until combined and softened
Spoon and push the butter mix into the cored cavity of the apples
Either place the apples in individual ramekins and on a tray to bake or onto a paper lined tray with the edges folded up to catch the butter sauce
Bake at 180 degrees for about 30 min or until the apples have softened
Remove from oven and serve with vanilla ice-cream. If you have baked them on a tray, put into serving dishes and carefully pour over the remaining sauce sauce from the oven tray.