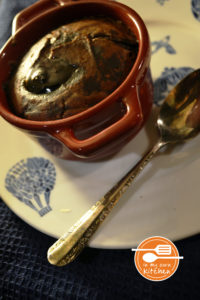 What to have for dessert. Almost as much a quandary and what to have for dinner. I'll admit I have bought and cooked my share of frozen desserts before. Why? Laziness to be honest. Sometimes I convince myself that is too hard to make a dessert from scratch so I buy an apple pie or pastry and bake it. Of course I am more often than not disappointed in the dessert and wish I had just baked my own but alas, there we are.
So what do you do when you just couldn't be bothered but you'd prefer not to buy a frozen dessert? Pudding. Puddings are some of the simplest and easiest desserts to make. Four or five ingredients, stirred, put into a mould and baked. Like a cake but with less pressure and you don't have to ice them. Self saucing puddings are even better. The accompaniment is baked into the dish for you! All you need do is sprinkle some berries or whip some cream and voila, an easy peasy dessert is made. Of course you can also buy frozen self saucing puddings but you really don't need to when they are so easy to make.
I baked mine in individual pots to make serving easier and more attractive. Puddings don't look that elegant when spooned out onto a plate so for a dinner party dessert, individual pots are the way to go. At home by yourself and wish to have something warm to eat? By all means, grab a spoon and tuck in straight from the dish. I do 😉
So, to the recipe:
Ingredients (makes four individual puddings)
1 cup of self raising flour or 1 cup of plain flour and 1 teaspoon of baking powder
2 tbsp of cocoa powder
1/2 cup sugar
80g butter
1 large egg
For the sauce
3/4 cup brown sugar
2 tbsp cocoa powder
1 1/4 cups of boiling water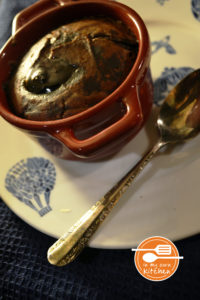 Method:
Pre-heat oven to 180 degrees
 Sift the flour and cocoa into a bowl. Stir in the sugar until combined
Melt the butter and allow to cool slightly
Whisk the egg and milk together in a jug, add the melted butter and combine
Pour the mix over the dry ingredients and stir well to combine
Spoon the batter into individual ramekins and place onto oven proof tray
Pour the boiling water over the sugar and cocoa powder, mix until combined sugar is dissolved
Carefully pour the sauce mix over the back of a spoon onto the top of the pudding batter. The liquid should reach just under the lip of the ramekin
Place the tray carefully into the oven and bake for approximately 15-20 minutes until the puddings have risen and the liquid has cooked through. The puddings should be soft to touch and spring back when touched.
Remove from oven, allow to sit for 2 minutes and serve with cream or ice-cream and berries
Enjoy!