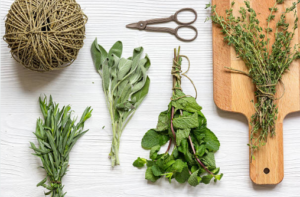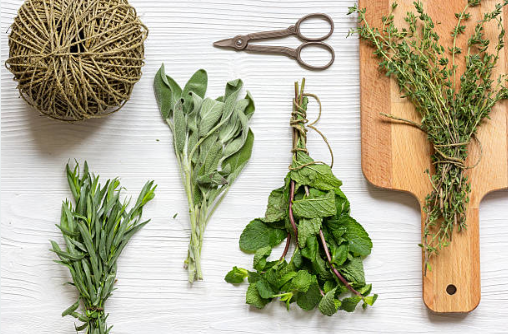 Sugar and Spice and All Things Nice – That's what girls are made of…so what are great dishes made of? Certainly not bugs and snails and puppy dog tails. Well, not in my kitchen anyway! One of the requests that was made recently was some more information into what herbs match what types of dishes. There are no hard and fast rules for what herbs suit what dishes but there are some general guidelines for what herbs will enhance and bring out the flavour of certain dishes.
So, some guidelines:
Hard vs soft:
Herbs usually fall into two categories, hard and soft. Hard herbs are those with thicker woodier stalks such as thyme, bay leaves and rosemary. Soft herbs are the more fragrant types such as basil, parsley and mint. The soft herbs are quite fragrant and tender and are lovely to eat as is when young and tender. The more mature leaves can be used in cooking. By their very nature soft herbs are best used in dishes that don't require long cooking times such as casseroles or soups unless stirred through at the end of the cooking as their flavour is easily lost when cooked out. Hard herbs such as rosemary and thyme on the other hand are lovely when cooked out and this slow process serves to release the fragrance from the woody stalks and oily leaves.
Thus as a general guideline – making a salad, stir fry or dessert – think soft – add a punch of freshness and fragrance with basil, coriander, mint and parsley. Making a casserole, roast or stew – think hard such as rosemary or thyme
Some cuisines enjoy certain herbs
Certain herbs lend themselves to certain ingredients and cuisines. This is a general guide and by no means a complete outline
– Thai and Vietnamese dishes use punchy herbs such as coriander, Thai basil and mint for a fresh and uplifting balance
– Italian dishes use parsley, basil and thyme
– Middle eastern dishes use coriander, mint and parsley
– French cooking uses thyme, fennel, chives, marjoram
Fresh is lovely but dried has it uses
As a general rule fresh is best in cooking but dried herbs have their uses and appeal. Just as fruits and vegetables are seasonal, so too are some herbs. They have their time to go to seed and regenerate thus can be more mature in flavour which for fragrant herbs such as mint isn't always appealing. Herbs that retain their intensity whilst being dried include parsley, thyme, rosemary, mint and oregano. Why use dried I hear you ask? In casseroles dried herbs can release their flavour with the slow cooking process. Dried herbs are also less likely to burn thus are a lovely addition to a crumb for schnitzel style dishes or in marinades and rubs where the cooking process is longer than a quick stir fry. There is also a convenience to dried herbs. How many times have you bought a bunch of fresh herbs, used some of it and forgot the rest until you find a sad looking bunch of something at the bottom of your fridge. For me, too many times! Dried herbs have a much longer shelf life thus allowing you to use a little and retain the rest.

Have fun
Personal taste will dictate what you use and how much and how often. Have fun with it and enjoy the fruits of the garden and giving your food some punch without the hassle
As a final guide, here's a list of common herb uses as outlined by Australian Good Taste Magazine. It is a pretty comprehensive list thus it's inclusion. Happy cooking! 🙂
Basil
Blend the slightly spicy aromatic leaves with olive oil, pine nuts and parmesan to make pesto.
Use whole basil leaves to top a tomato bruschetta, or tear and add to tomato-based pasta sauces.
Purple basil
Tear the pretty, spicy-flavoured purple leaves and add to Mediterranean-style salads.
Add whole purple basil leaves to dishes that feature rice and pasta to add extra colour and flavour.
Thai basil
Add the slightly peppery flavoured leaves to noodles for an Asian-inspired salad or use them as a garnish for curries.
Team it with beef or lamb in South-East Asian dishes.
Chives
Chop, then sprinkle this mild onion-flavoured herb over dips, fish, chicken and salads.
Add chopped chives to omelettes and scrambled eggs.
This herb is best added at the end of cooking.
Continental parsley
Also called flat-leaf or Italian parsley, it's milder than curly parsley.
Chop leaves and use in tabouli, gremolata or salsa verde.
Use the strong-tasting stems to add great flavour to stocks.
Curly parsley
Combine with mayonnaise, then stir through a potato salad.
Finely chop, then add to a lemon butter sauce. Drizzle over fish or chicken.
Use as a retro garnish, especially for dishes that feature eggs.
Coriander
Use the stems and leaves of this herb in Asian and Middle Eastern inspired dishes.
Chop the stems and add to Thai-style curry pastes.
Sprinkle the leaves over spicy chicken and seafood dishes.
Curry leaves
Fry the spicy-flavoured leaves with Indian spices and add to curries.
Grind the leaves and add to curry pastes.
Team the leaves with prawns, lentils, potatoes and fish.
Dill
Add the feathery leaves, with a subtle anise aroma, to a New York style smoked salmon and cream cheese bagel.
Use dill to add flavour to dishes that feature egg, potato and fish, such as gravlax.
Oregano
Chop this mild-flavoured herb, with a slight lemony aroma, and use in tomato-based sauces.
Sprinkle over Mediterranean vegies before roasting, or use in moussaka and Greek-style dishes featuring feta, chicken or fish.
Mint
Try this refreshing herb in both sweet and savoury dishes.
Add chopped mint to a bowl of berries or mix it with ice-cream.
Combine mint leaves, lemon rind and ginger to make a herbal tea.
Team with chicken, fish or lamb.
Marjoram
This herb looks similar to oregano, but it has a slightly sweeter taste.
Pick the leaves and add to Mediterranean-style salads.
Use in dishes featuring mild cheese, such as bocconcini.
Rosemary
This woody herb with a slight camphor aroma is best when added to a dish and cooked.
Add sprigs to dough for making scones, biscuits or focaccia.
Use in dishes featuring parmesan, chicken and tomato.
Sage
Add this herb to stuffings for roast meats, such as lamb, but don't use too much as the flavour is strong.
Sage also works well with pork and rich dishes that feature onion and butter.
Tarragon
Use this slightly tart tasting herb to flavour bearnaise sauce (see related recipe).
It works well in French-style cuisine, especially in soups and sauces, but the best flavour matches are chicken and fish.
Thyme
Use this robust-flavoured herb in slow-cooked dishes.
Add the whole sprigs to a beef or lamb casserole.
Use the leaves in wine-based dishes, such as sauces, marinades or French onion soup.
Source
Australian Good Taste – September 2008 , Page 108