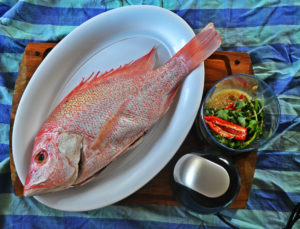 Here at Casa Toaldo we love fish and seafood. Nothing excites me more than a bowl of steaming mussels cooked with tomatoes and plenty of heat from chillies or squeezing lemon over freshly peeled prawns. It is also hard to go past a piece of well cooked fish. It is a source of pride for me to cook lovely fish that is neither under done nor dry and horrible. How do you achieve this? I hear you ask. Despair not I will reveal some chef secrets:
1. Have your pan hot – not guns blazing hot but medium to high heat so you can give the fish some nice colour without burning it or cooking it too fast. Place it in the pan on the presentation side – this is the side you can see has come off the skeleton – it is rounder than the flat side where the skin has come off – and allow it to colour lightly and cook half way through, then flip and lower the heat to finish the process
2. Skin on? Not a problem – again pan hot but not too much and a bit of oil in the pan – let it cook and it should come away from the pan easily – don't be tempted to flip too soon – it will stick and rip
3. Fish cooks quick – make sure everything else is ready – fish is a fast and easy meal so ten minutes max is all that is required – make sure your salad or vegetables are ready to go at the same time
4. Fish can be steamed – steaming fish allows for delicate cooking and flavour infusions – steam on a bed of ginger, garlic, shallots and chilli for a fragrant dinner
5. Parcel it up – wrap fish in foil with butter, lemon juice and herbs and grill for about 8 minutes – it will almost poach in the juices and butter and create a lovely flaky finish
The fish I chose for our weekend dinner was whole Snapper – there were slim pickings in the seafood section for fillets as a matter of personal preference I look for Australian fresh fish not frozen imports and preferably from sustainable sources – this time a little 1 kg snapper caught my eye – enough for 2-3 and not too big that it is hard to handle – perfect
You could easily fillet the whole fish yourself but for me why bother? Snapper has large bones that are easy to spot when taking the cooked flesh from the frame.
To make it yummy I marinated the fish for about an hour with a mixture of the following:
– lemon juice
– lemon grass paste
– coriander/basil
– chilli
– ginger
– garlic
– salt and pepper
The addition of the lemon juice can start the 'cooking' of the flesh due to the acidity – fish marinades usually only require an hour or two due to their delicate flesh as opposed to longer for beef or chicken – don't use lemon juice if you need to leave it overnight – it will cook the flesh; use lemon rind instead for a citrus kick
Whizz these together until well combined. To prepare the fish I sliced some lemons and placed them in the cavity so they can steam and add fragrance and moisture to the fish during cooking. I put some baking paper on top of the alfoil before wrapping to ensure the fish didn't stick to the foil and as extra insulation keeping the juices in whilst cooking
With the fish on the foil wrap, pour over the marinade and wrap the fish tightly. Place on hot bbq and cook about 10 minutes on each side until cooked through or in a hot (200 degree) oven for 8-10 minutes each side.
Allow the fish to sit for a minute or two before unwrapping to ensure no steam escapes and burns you. Carefully unwrap the fish and either serve at the table as is or remove the fillets as shown the demo below:
[fve]http://www.youtube.com/watch?v=BaMG_ix8cio&[/fve]
It was a very fragrant fish so we served with salad and vegetables on the side.