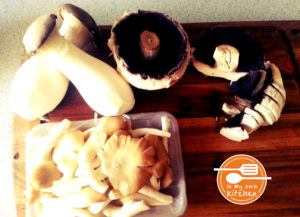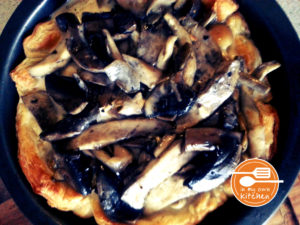 One of my favourite ingredients to work with is mushrooms. From the delicate oyster mushrooms to the meatier king browns mushrooms have so much to offer in taste, texture and enjoyment. I was at the fruit shop the other day and spotted some different varieties and some puff pastry and the tart was born. Usually I am not an advocate for store bought pastry as to me it just doesn't do a dish justice but I will make an exception for puff pastry as the man hours required to make it just don't justify it for me, there are limits for any chef! The puff pastry I choose to use isn't on the cheap size but at the same time with pastry you get what you pay for and I love this product enough to make the extra dollars. I have found in fruit shops though gourmet food providores may have some too.
The pastry is quite thick so can be rolled out gently for extended use.
The mushrooms I used in this tart are field mushrooms, oyster mushrooms and king browns. Button mushrooms, enoki and wood ear mushrooms can also be found at markets for further variety.
I sliced up a couple of cloves of garlic and sauteed that off, adding the mushrooms one group at a time in the pan, sauteed until brown and seasoning well. Place each lot of mushrooms into a bowl and check seasoning, add chopped thyme for further flavour. Finely chopped shallot onions can also be sauteed and added to the mushroom mix.
Complete the filling by whisking 3 whole eggs and 1 cup of cream together. Place the pastry into a pie pan. I like to par bake my crust to allow the bottom to become nice and crispy. Cover the pastry and weigh down with pie weights or rice and bake for 8-10 min. Remove from oven, place mushrooms in and pour in egg mix until mushrooms are just covered. Bake at 170 degrees for 15-20 min. If the pie isn't quite set and the pastry is browning, lower the oven to 160 and cover with foil and allow to cook for another 10-15 minutes until down.
I served the pie with a simple spinach, walnut and parmesan salad and some crumbed chicken. To make the crumb a little more special I added some ground walnuts and truffle salt which was a Christmas present. It gave the chicken a nice crunch with a little bit of class care of the truffle because we all know truffle makes anything high brow 😉
A simple meal for any night of the week. For dinner parties individual pie could be made in muffin pans, just make you line the bottom with some baking paper to make removal easier in case any egg filling spills out. Many a mini quiche has bit the dust from this little drama so anything that ensures success is worth the extra time and effort to me.
Bon appetito!