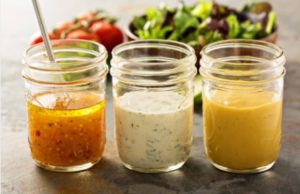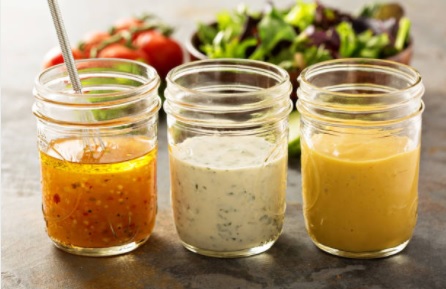 Dressings – salad dressing and sauces to be precise can create fun and interesting lift to the most basic of salads. I have to admit, I have my go to favourite of balsamic vinegar and olive oil. When balsamic was 'discovered' in the 90's by Australia, it was everywhere and I mean everywhere. Suddenly the 1l bottle of white vinegar in your pantry looked so passe. Balsamic vinegar is lovely of course, but it has it uses. There are all sorts of herbs and vinegars that can create a new dynamic if you're willing to experiment and have some fun. Vietnamese dressings are my favourite reference point for that lovely balance of sweet, sour and spicy in dressings. Who hasn't had a vermicelli salad and marvelled at the light and tangy dressing? Who also doesn't love a fat potato chip dipped in aioli or mayonnaise? Many people shy away from mayonnaise as it can be 'fattening' and 'bad for you'.
Let me share a little secret. I love mayonnaise. To clarify though, not store bought 98% fat free full of sugar mayonnaise but lovely, thick egg, oil, mustard and lemon juice mayonnaise. Have you ever actually looked at the labels on store bought dressings and wondered how something so simple suddenly has so much to it? Processed foods need preservatives to give it shelf life. Dressings at home don't need to be kept forever, they can be whisked up and poured over and enjoyed. Home made mayonnaise can last at least a week if refrigerated well in a sealed container. This is the magic and difference of taking the time to make your own dressing. You can add and subtract ingredients at a whim and enjoy it there and then.
So what's the secret to lovely dressings? Have fun! Think outside the square. Some ideas:
1. Citrus dressing – either juice a citrus of your choice (orange, blood orange, lemon, grapefuit) or buy some (at least 1 cup required) and place in small saucepan and allow to come to a gentle simmer. Allow to simmer until reduced slightly (the juice will thicken) remove from heat and cool, add oil of a ratio of 1:3, one part juice to 3 parts oil, season with salt and pepper, add some chopped herbs and use for chicken or seafood salads
2. Greek dressing – 1/2 cup lemon juice, 1 tbsp dried oregano, 3 cups olive oil, salt and pepper, pinch of paprika – whisk together and use on Greek salads, chicken salads or whatever takes your fancy
3. Tzatziki – 1 small tub of Greek or plain yoghurt, 1 cucumber deseeded and grated, 1 garlic clove crushed, 1 lemon rind and juice, salt and pepper – combine in bowl and refrigerate – great for burgers, wraps, salads
4. Balsamic honey mustard – 1 tbsp honey, 1 tbsp Dijon mustard, 3 tbsp balsamic vinegar, 1 cup olive oil – whisk honey and mustard together, add vinegar and then oil – lovely for chicken or beef salads
5. Vietnamese style dressing – 1 tbsp honey or 1 tbsp sugar dissolved in 2 tbsp boiling water, 1/4 cup lime or lemon juice, splash of white vinegar, splash of fish sauce, 1 chilli finely sliced, 1 teasp crushed garlic, 1/3 cup chopped coriander, splash of soy sauce to taste for salty – mix ingredients together in bowl -lovely for Asian style coleslaws, dipping sauces, noodle salads
6. Raspberry vinegar – This is so easy and can be used with a splash of olive oil as lovely summer dressing – Place one punnet of raspberries in a sterilised screw top jar (sterilise bottles by boiling in a pot of water for about 2-3 minutes) and add at least 750 ml of vinegar and place lid on. Leave in a cool dark places for about 2 weeks. Strain the vinegar through cheesecloth or a strainer and voila, lovely handmade raspberry vinegar. The raspberries are edible, just pickled now. The same can be done with herbs such as tarragon and thyme, lovely for french style salads.
7. Aioli – 200g roast garlic (cheats way – bring garlic to boil in saucepan and simmer until soft, strain and pan fry until golden), pinch of salt, 1 egg yolk. 1 cup of vegetable oil, splash of lemon juice, 1 tbsp dijon mustard
Place yolks, garlic and mustard in food processor and process until well combined, slowly add olive oil through feed tube slowly allowing to blend easily until mixture thickens. Season with salt, pepper and lemon juice. (Chef hint – don't use eggs straight from the fridge – mayonnaises work better with warm ingredients and combine with less chance of splitting. BUT don't have the garlic too hot as the heat can also cause it to split. Solution? Add some ice cubes to cool. If the mix splits, don't through it out!! It can be saved. Take the mix out into another jug, Just put another egg yolk and some salt in the blender, turn on and slowly pour the split mix back in until thickened. Easy!)
8. Cocktail sauce  – 80's style prawn cocktail anyone! This retro classic is my favourite with fresh seafood – 1 cup mayonnaise (make as aioli minus the garlic), 2-3 tbsp tomato sauce, splash of Worcestershire, salt and pepper, splash of Tabasco for kick – mix together and refrigerate. Enjoy with a fat fresh prawn dipped in and popped in your mouth when no one is watching. After all, you wouldn't want to have a sneaky taste before it goes to the table would you?
So there you have it, 8 easy peasy salad dressing to dress up any dish and be dinner party worthy. Or just have some fun with your everyday meals. Happy eating!