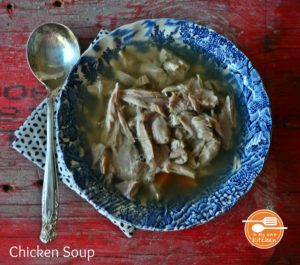 You can certainly feel the chill coming into the air here in Brisbane. With the chill has come the winter cold into our household. With two residents coughing, sniffling and generally feeling sorry for ourselves it was time to bring out the old cure all, chicken soup. One of the hardest working kitchen staples would have to be stock.
Chicken, vegetable, beef or fish, these are the staples of many sauces, soups and dishes of any chef's repertoire. So why make one from scratch in your own home? A home made stock can yield much more than a flavourful broth. When I make my chicken stock I use either a whole chicken or chicken legs. Why? I hear you ask. To have the delicious yield of the meat and to further flavour the stock. By making your stock at home you can also add more vegetable and serve them with the meat and you know exactly what's in the stock.
There are a few guidelines though that will help create a successful stock each time:
– Cleaver the whole chicken or legs through the meat just to the bone to allow the lovely bone marrow to release and flavour the stock. If just using chicken frames gently whack the frames with the back of a knife to achieve the same effect
-Cut your vegetables to serving size so you can spoon these out with the broth and flesh at the end    –
-Use a pressure cooker if you can – the quick cooking method keeps the flavour in and reduces stove time
– Add garlic for cold busting properties
– Parsley is added to stocks for a burst of flavour, if you are cooking a stock for two to three hours add the parsley towards the end to keep the freshness in
– Don't boil your stock just simmer it – boiling clouds the stocks ad produces a scum which can be skimmed off but a gentle simmer allows the flavours to develop
– With a pressure cooker the stock will only take about half an hour, without one gently simmer your stock for about three to four hours
– The stripped chicken meat can be used in the stock, tossed into a salad or in a roll. It is cooked ready to go so enjoy!
Chicken stock and soup is just the basic starting point for meals. You can use it to create pureed soups such as pumpkin or corn or as a base for casseroles instead of water. In my next blog I will show you how to make no fuss pumpkin soup from left over roast pumpkins. Yum!
For a bit of a spicy kick you can also turn your stock into a Chinese master stock. Sounds impressive but it really is quite simple. The use of fragrant spices turns a simple stock into a complex broth just begging for silky noodles and shredded chicken. The best part of master stock is it can be kept for months in the fridge with a quick boil each week to ensure it doesn't go off. I use my master stock as a quick meal as well by throwing a few dumplings in and slurping it down. Delicious!
So what's the recipe? This one uses chicken drumsticks as a) they were on sale and b) if you're not after a big yield of simmered chicken this is just right. The master stock follows below
 Simple Chicken Stock
Ingredients
6 chicken legs cleavered into bone
3 carrots peeled and cut into 3 cm circles 3 sticks of celery cut into small sections
4 garlic cloves
1 cup parsley stalks and leaves 1
onion cut into quarters  
Method
Place all the ingredients except the parsely into a stock pot
Top with water until covered with about 10cm of water
Bring to a simmer and leave for about an hour before adding parsely
Keep simmering for another two hours Remove chicken from pot, strip from bone
Keep vegetables (celery and carrot) and cut smaller if you like or keep chunky and rustic
Strain stock and cool in fridge if not eating straight away
If using for chicken soup, bring to simmer, add chicken meat and vegetables
Remove from heat, ladle into bowls and enjoy with generous chunks of fresh bread. Winter cold be gone!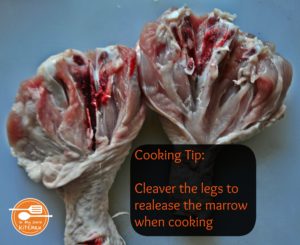 My version of Chinese master stock
NB  I use chicken as the base for this as I eat it with the broth and it gives it some depth. The addition of onion and carrot is also my variation as I like to eat the carrot as well and I feel onion is just delicious in any broth too. Not traditional ingredients but then it's my version of the recipe so enjoy!
Ingredients
3 litres water
1 Whole chicken or 6 chicken drumsticks
1 brown onion
2 carrots cut into small pieces
½ cup light soy sauce
½ cup chinese cooking wine
¼ cup brown sugar or chinese rock sugar
50g fresh ginger (I sometimes put mine under the oven grill to bring out the flavour)  
Spice Bag – These spices are used to flavour the broth – for easy removal place in a muslin square and secure with string before adding to stock. If I am grilling my onion and ginger first I add the spices for a minute to bring out their flavour
5 garlic cloves
3 cardamom pods
2 cinnamon sticks
10 g (2 tsp) dried mandarin peel (available at most Asian grocers)
4 whole cloves
4 star anise
1 tsp cumin seeds
1 tsp fennel seeds
1 large red chilli  
Method
Place all ingredients into a large pot and cover with water If using pressure cooker, allow to come to steam and drop to simmer for about half an hour
If using stock pot, bring to gentle simmer and allow to cook for 2-3 hours
Remove from stove, discard spice bag, keep chicken meat and carrots, discard remaining ingredient and strain stock
If using as a base for marinades etc, bring to boil before storing in fridge in sealed container
Will keep for a long time (months) if boiled weekly If using as soup, bring to simmer with shredded chicken, carrots, cooked rice noodles and broccoli.Serve with a squeeze of lime juice and a dash of fish stock to taste.