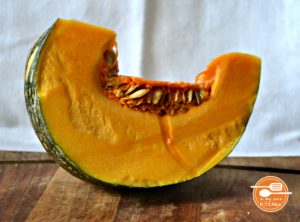 When the weather turns cold you can't but help to think of warming dishes such as stews, casseroles and roast meats. The usual suspects also feature – roast vegetables. I am a big fan of roast vegetables as to me it brings out the sweetness and flavour of the root vegetables giving them a satisfying and unique flavour.
Alas not all vegetables for roasting are root vegetables and pumpkins are one of the exceptions. Their inviting orange flesh can be used for sweet or savoury dishes and it is very universal vegetable (fruit if we are being particular with the seeds/flowers and all) to prepare.
One pumpkin can be a task to get through for a single person or even a couple, so what do you do when you have a whole or even half a pumpkin rolling around in your crisper?
As mentioned, the most popular choice would be roast pumpkin closely followed by the sweet counterpart of pumpkin scones. Again, these tackle some of the pumpkin's offerings but how do you utilise it without having an array of pots and pans?
I roasted my pumpkin two ways. One features garlic salt whilst the other is given a spicy kick with a chilli and lime salt. You can roast all the pumpkin at once, but create some different flavours to keep the leftovers interesting. No one really enjoys eating the exact same thing three days in a row and this is a way of mixing up the flavours whilst not wasting your crisper contents.
Another advantage of the roasted pumpkin is that it can easily be transformed into soup and frozen for later. I actually prefer to roast my pumpkins and blend with stock for soup as I feel that just simmering the pumpkins doesn't bring out the depth of flavour they achieve with roasting. If you have some chicken stock ready to go in the freezer as featured in my last blog, it can be as simple as giving the stock a simmer, blending in the pumpkin and dinner is served. Pretty simple right?
Try also pureeing some of the pumpkin after giving it a steam to keep the water content down and have it frozen ready for scone making or thin it down with the chicken stock as soup for more versatility too.
Roast pumpkin is fabulous tossed through leafy green salads or even in a potato salad for a splash of colour and a kick of flavour. They can also be mashed up and folded through a potato mash for a bit of different side to your roast, sausages or casseroles.
However you like your pumpkins they are great vegetable to keep on hand. Have a go at some of the recipes below and tell me how you went. Happy cooking!
Recipes
Creating your own flavoured salts doesn't need to be a task. Having a mortar and pestle or even a decent small blender/spice grinder can have your creating fabulous concoctions that bring your dishes alive.
Lime and Chilli Salt Roast Pumpkin
Ingredients:
2-3 tbsp rock salt or course salt for grinding
½ tea spoon chilli powder (adjust according to your spicy preference)
Finely grated zest of 1 lime
Method
Place all ingredients into a mortar and pound with pestle until salt is broken up and flavourings are mixed through. If blending, same method applies
NB: You can use the lime juice to pep up the pumpkin once it is roasted. By using the zest you're releasing all the fragrant oils into the salt
Garlic and Herb Salt
Ingredients
2-3 tbsp rock salt
1 tbsp dried garlic
1 tbsp dried herbs – I used my own dried rosemary
Method: Place all ingredients in mortar and pound with pestle until combined
NB: I use dried garlic and herbs as the oils from fresh garlic can make it hard to sprinkle as it will clump together. If you are basting a meat with blend, use fresh garlic as you can then rub it in. The same applies for the herbs. I dried my own rosemary by handing it upside down in a cool area until the leaves became brittle and is stripped them from the stalk and store in an airtight container
Roast Pumpkin Soup
Ingredients
½ roast pumpkin
1l chicken or vegetable stock
4 cloves of roast garlic (if you like, add these with the pumpkin when roasting)
Method
Bring stock to a simmer, blend in pumpkin with stick blender and garlic and season to taste
NB: If you are using an upright blender please do not blend boiling hot stock as it will pop the lid and you can burn yourself – in this instance just ensure your stock is full defrosted if using from freezer or just pour in from the fridge and blend – bring the soup to a simmer once blended.