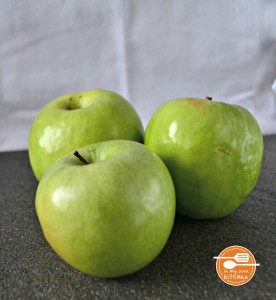 Autumns and winter aren't exactly synonymous with luscious fruits. The cool temperatures aren't the best of friends with warmth dependent fruits such as peaches, mangoes and berries. Their delicate skins can't withstand chilly frost. Apples, pears and citrus though are winter's best friend. Their tougher skins don't mind a little chill so they happily ripen on the trees without the need for a scarf or beanie unlike their human counterparts! This brings us to the second installment of market fresh, seasonal eating how to.
Nothing is more delightful (to me anyway!) than the crisp crunch of an apple. Luckily in my local market I am able to buy waxed fruits which are another delight unto themselves. The surprisingly rough skin allows for an even more earthy delight when biting in. So what to do with surplus apples in the cooler months?
The obvious choices are apple pies or crumbles. But what if you're after something different? This week I tried my hand at some baking. Don't get me wrong I enjoy baking but my oven is a bit temperamental. But this week I had access to a far superior oven at Wandering Cooks so I gave some cupcakes and cookies a whirl.
The cupcakes featured apples peeled and diced small whilst the cookies I adapted myself to include an apple puree in place of some of the sugar. The result? Delightful sweet treats which are a little different to the usual offering.
Another idea is to preserve your apples. How? Either through slicing finely and drying in a food drier (mine is a hand me down from Mum but sunbeam has one on the market), or making your own apple puree and bottling it. Apple puree can be used to replace eggs or sugar in some recipes, as a sauce with pork or stirred through porridge. As you can see, apples are very hard workers in the kitchen!
Speaking of porridge, the cookies feature quick oats, another easy kitchen staple. Have your apples and oats as porridge in the morning or as cookies for afternoon tea. Mix the puree through with some larger cooked diced apples, spoon into a dish and make some crumble from the oats and there is your simple dessert. Using your pantry is easy when you have some ideas up your sleeve.
Moral of the story? Sweet or savoury eating in the seasons doesn't need to be a chore when you can plan ahead or store your recipes according to ingredient. Please feel free to print these recipes and file them so when you have a market trip you know exactly what to do when you get home. Happy shopping!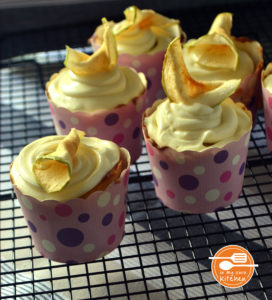 Recipe One – Apple cupcakes with cream cheese frosting
The apple cupcakes are from food.com. As I followed the recipe verbatim (always a good idea with pastry in my opinion) I'll just paste the recipe below but the original link is here: http://www.food.com/recipe/apple-cupcakes-41260
The frosting and garnish is mine though 🙂
Ingredients
2 cups apples, skin on, grated
2 cups sugar
2 cups water
1 cup butter
2 teaspoons cinnamon
2 teaspoons nutmeg
1/2 teaspoon ground cloves
3 1/2 cups flour
2 teaspoons baking soda
Directions
Preheat oven to 350 degrees Fahrenheit.
Line muffin tins with cupcake papers.
Put the grated apples, sugar, water, butter, cinnamon, nutmeg and cloves into a large saucepan and bring to a boil.
Cool; add flour and soda.
Fill paper lined cupcake tins 2/3 full.
Bake until cupcakes spring back when touched in the center.
Cream Cheese Frosting:
Ingredients:
250g cream cheese
2 tbsp apple puree
¼ cup icing sugar
Pinch of cinnamon
Splash of vanilla essence
Method:
1/ Whip cream cheese and icing sugar together until softened and combined
2/ Add cinnamon and vanilla and mix well
3/ Swirl through apple sauce for streaky effect
4/ Spoon generously over cupcakes and top with dried apple
5/ Dig in
Recipe Two – Apple and oat cookies
Ingredients 
250g butter, softened
1 cup packed brown sugar
1/3 cup apple puree
2 eggs (large)
1 teaspoon vanilla extract
1 ½  cups plain flour
2 tsp ground cinnamon
1 tsp baking soda
Pinch of salt
3 cups quick oats
Method:
Cream butter and sugar together until light and fluffy. Slowly beat in eggs and vanilla.
In a bowl, sift the flour, cinnamon, baking soda and salt; gradually add flour mix to creamed mixture and combine well.
Stir in the oats and apple puree
Form into small balls about 1 tbsp in size. Place on baking tray lined with baking paper about 3 cm apart.
Bake at 180 degrees for 10-15 minutes until golden. Cool on wire rack and serve for afternoon tea. Or just eat off the tray. That's what I did 😉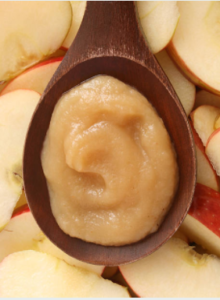 Recipe Three – Preserved apple puree
Ingredients
2 kg apples peeled, cored and diced small
500ml apple juice (preference is to juice your own but otherwise try and source fresh apple juice from the cold section as these shouldn't have as many preservatives and sugar. Check the different brand for exact quantities)
Method
1/ Bring the apple juice to a simmer, add the apples and reduce heat
2/ Allow to cook over low heat until softened and remove from heat
3/ Allow to cool for ten minutes to blend safely in food processor or with stick blender
4/ Sterilise jars by covering with boiling water for at least ten minutes in a large pot. Remove from pot carefully with tongs and set onto surface to pour apples into.
5/ Return the apple puree to heat and bring to boil, pour carefully into hot jars and seal lids. Place in pot with tea towel on bottom, cover with boiling water and simmer for half an hour. Allow to cool in water. Test seal has vacuumed down. Store in cool dry area for about 2 months.