American Style Apple Pie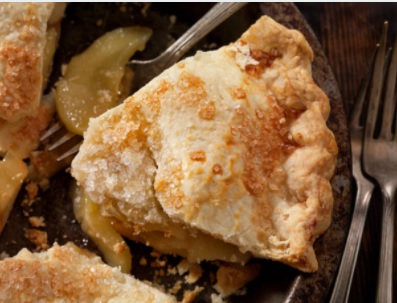 A classic recipe for dessert delicousness
INGREDIENTS
400 g butter (cold, divided)
520 g all-purpose flour (divided)
1 egg yolk ½ tsp salt
170 g sugar
60 ml water
8 apples
½ lemon
½ tsp cinnamon
¼ tsp nutmeg
100 g brown sugar
1 egg white
Utensils: stand mixer, plastic wrap, oven, rolling pin, pie dish, pie weights, parchment paper, cutting board, knife, large bowl, cooking spoon, pastry brush
METHOD:
360 g butter – 500 g flour – 1 egg yolk – ½ tsp salt – 120 g sugar – 60 ml water
Cut butter into large pieces and add to a stand mixer with most of flour, egg yolk, salt, and sugar.
Beat for approx. 2 – 3 min. until crumbly. Then, slowly add water, reserving a small amount for the final step, and continue to beat for another 1 – 2 min. until dough is smooth and uniform in consistency.
Wrap dough in plastic wrap and transfer to refrigerator. Allow to set for approx. 1 h. 40 min.
Preheat oven to 180°C/350°F. Cut dough into two even rounds. Then, flour work surface, place dough on top, and roll out, one at a time, using a rolling pin until rounds are larger than your pie dish.
Flour both sides of dough and transfer to pie dish. Press evenly into all edges of dish and then remove excess dough. Place a piece of parchment paper on top of dish and fill with pie weights.
Place in preheated oven at 180°C/350°F and blind bake for approx. 10 min.
Peel, core, and quarter apples. Then, cut crosswise into medallion-sized pieces.
In a large bowl, thoroughly mix together apple, lemon juice, cinnamon, nutmeg, flour, sugar, and brown sugar.
Transfer apple slices to pie dish and spread out evenly. Cut remainder of butter into pieces and place on top of apples. Cover pie with rest of dough. Make a small hole in the middle, so air can escape.
Mix together egg white and water and brush on top. Return to oven and bake at 180°C/350°F for approx. 50 – 55 min. until golden brown. Enjoy